The Chinese government had never said no to a merger deal in the country's technology sector until two weeks ago when the State Administration for Market Regulation (SAMR) blocked Tencent Holdings' plan to merge Douyu and Huya, two video game livestreaming websites it controls.
Analysts says Beijing's veto is a clear sign that the Chinese authorities are no longer shy to act on antitrust issues, putting an end to a freewheeling era in which Big Tech companies were able to engage in aggressive merger and acquisition activity to achieve market dominance.
Moreover the decision to reject the merger, which would have created a video game streaming behemoth worth more than US$10bil (RM42.22bil) allowing Tencent to take on Amazon's Twitch, sets a precedent with far-reaching implications for the country's Internet industry.
"This is the first case involving Internet platforms, a sector where antitrust authorities have long been very careful when it comes to making decisions relating to what would constitute a 'concentration of business operators'," said Laura Wei, lawyer at W&H Law Firm. "In this case, the antitrust authorities have made a comprehensive assessment of how the merger is likely to have an extremely adverse impact on competition."
In a regulatory ruling published on July 10 explaining its decision to block the deal, SAMR said that Huya and Douyu's combined market share in the video game livestreaming industry would be over 70% if the merger went ahead, giving Tencent, the world's biggest games publisher, a dominant role in gaming.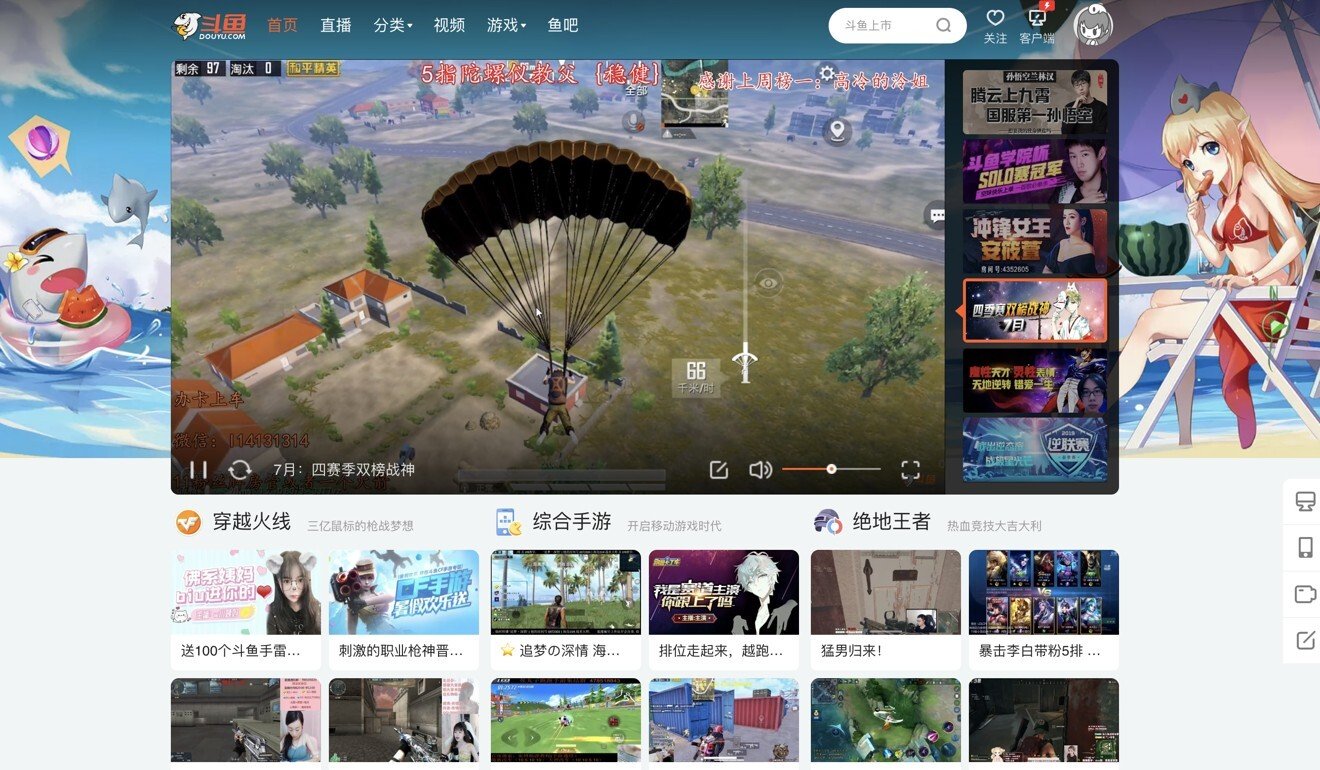 The merger plan had been many years in the making at Tencent. The Shenzhen-based Internet giant is Huya's biggest shareholder, with a 36.9% stake, and also owns over a third of Douyu, with both firms listed in the US. Had the merger gone through, it would have given Tencent significant control over the video game streaming market, allowing the tech giant to control the video games ecosystem in China of development, publishing and promotion.
Henry Gao, a trade law professor at Singapore Management University, expects more mergers to be halted on similar antitrust grounds in future as China's antitrust regulator meets instructions from the country's leadership to "prevent the disorderly expansion of capital".
"I expect the biggest platforms, the dominators in the market, to be worst hit by the latest enforcement drive," he said.
A meeting earlier this year of the Politburo, China's supreme policymaking body chaired by President Xi Jinping, concluded that China must rein in the expansion of capital as the ruling Chinese Communist Party looks to head off potential social unrest linked to the growing hold of Big Tech on the nation's economy.
Huya and Douyu were once bitter rivals, filing a series of expensive lawsuits against each other as they went head to head over the past decade. Tencent, an early investor in both companies, had the opportunity to take over both platforms should it choose to. Last April, Tencent exercised an option to gain control of Huya after earlier seizing control of Douyu.
This allowed Tencent to propose a merger of the two companies with its own video game streaming arm Penguin Esports in October 2020.
The proposed deal seemed like a natural step, given that China's tech industry had already seen its fair share of mega-mergers. In 2015, for example, Alibaba Group Holding-backed Meituan merged with Tencent-backed Dianping to create food delivery giant Meituan Dianping, valued at US$15bil (RM63.33bil) at the time. As of publication, Meituan has a market capitalisation of HK$1.78 trillion (RM967.31bil).
Also in 2015, ride-hailing firms Didi Dache and Kuaidi Dache merged to create Didi Chuxing, with a valuation then estimated at roughly US$6bil (RM25.33bil). Didi later took over Uber's China operation in another headline-grabbing deal, which catapulted the company's valuation to US$35bil (RM147.75bil) the following year. The market capitalisation of Didi, which recently listed in the US, now sits above US$60bil (RM253.29bil).
You Yuting, senior partner at Shanghai Debund Law Firm, said the Huya-Douyu merger rejection could just be the beginning. "It remains to be seen whether the government will continue to hold Tencent accountable for various violations when it comes to the 'concentration of business operators'," said You.
SAMR dished out 22 fines of half a million yuan each to the country's Big Tech firms last Wednesday, citing violations of 'concentration of business operators' with respect to a series of mergers and acquisitions deals closed in the last decade. The transgressions were not strong enough to necessitate the deals being unwound though.
The companies fined include Alibaba, which owns the South China Morning Post, Tencent and Didi. While a fine of 500,000 yuan (RM325,577) is relatively small change for the country's Big Tech firms, it is the maximum amount allowed under China's antitrust law for merger deal violations.
Analysts said the blocked merger may force Tencent to sell off its stake in one of the two streaming companies, given the risks of working with both due to ongoing antitrust regulation.
Mio Kato, research analyst at Lightstream Research, wrote on fintech platform Smartkarma that it would make sense for Tencent to divest its stake in Douyu, given Beijing's scrutiny of its dominance in the gaming market.
"Given that Huya and Douyu are both likely to list in Hong Kong at some point, that could provide an opportunity for Tencent to sell its stake in Douyu," he wrote. – South China Morning Post